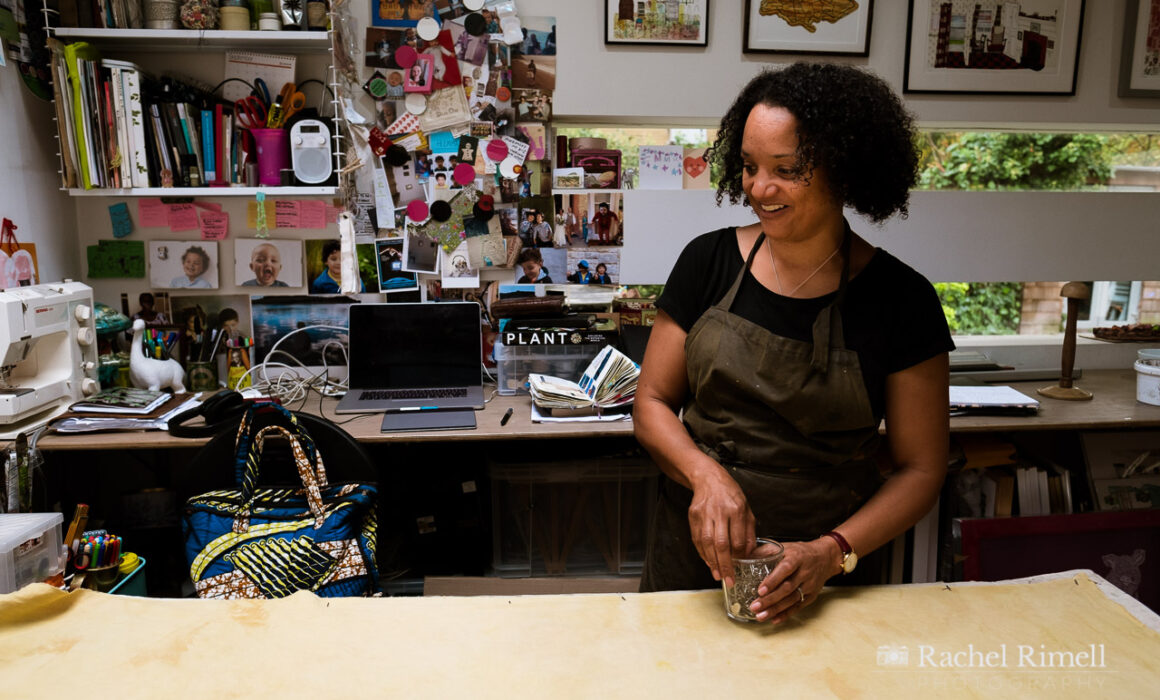 I recently had the pleasure of spending a morning with the lovely Emma Walker – a textile artists and illustrator – in her studio in Crystal Palace, London, to make a short personal branding film and photograph her to promote her textile work and illustrations.
Emma is such a talented artist and has many strings to her bow – in fact those many strings, at first, meant she was a little anxious about how best pull them together for the branding film. Like most people she also felt a little nervous at the prospect of being in front of a camera – and like most artists it can feel a little exposing to put your art work out there into the world.
Emma's work encompasses a 20-year career designing and printing textiles in the film industry with big film names such as Star Wars – The Phantom Menace, Jane Eyre, Merlin, Paddington 2, under her belt, as well as an interest in natural dying and printing processes that sit alongside her illustration work.
Talking over these interests with Emma and collaborating on the examples of work and her working practices that we should include, we were able to make a beautiful personal branding film for an artist that showcases some of her recent textile designs as well as her illustration work – all of which is gleaned from and based around artifacts and memories from her own life, an influence deeply rooted in her work.
From illustrations of cottages her family have visited for family holidays year on year or her mother-in-law's house in Sweden with the markings of the children's heights through the years on the doorframe; to her recent discovery via a DNA test that revealed her African ancestry; to her interest in traditional dying and printing methods, Emma's work is a very personal expression of who she is and where she's been. All of these threads, we were able to weave together for an evocative personal branding film that tells her story and the influences that inform it. Through talking and collaborating on the film and the environmental business portraits of her in her studio, we were able to understand how that sense of holding onto life's experiences and heritage underpins all the strings to her bow.
Afterwards Emma told me – before she'd even seen the finished film or photographs – that working with me had been inspiring and clarifying for her, helping her to see that she didn't need to be defined by one specialism and left her feeling really excited about her new works.
Here's Emma's words on working with me and her finished film and personal branding photographs:
"I had the absolute pleasure of spending a morning with Rachel. From the moment she came into my studio she put me at ease. We started chatting and the rest flowed naturally. I had been overwhelmed as to how to present the different strings to my bow. We talked, she filmed and took photographs, capturing all the tiny details of what I do to create a beautiful montage that captures the essence of my working methods and inspirations. They are windows into my creativity. Thank you so much!"
You can see Emma's finished film below as well as some of the personal branding photographs and environmental portraits that I took of her and her artwork.