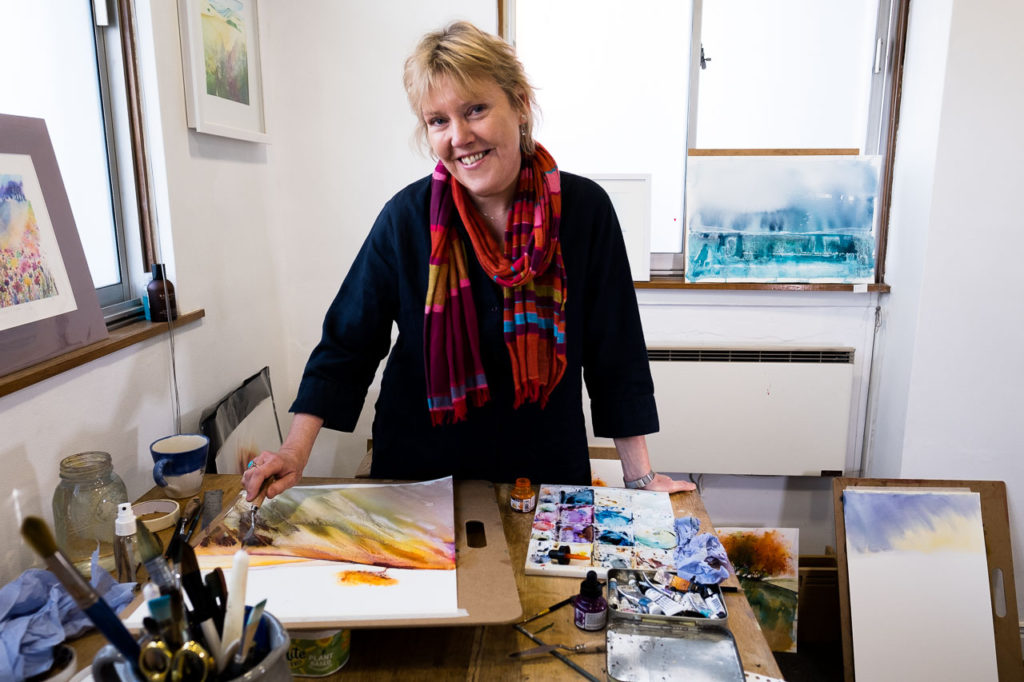 I first met Ione through the fabulous and inaugural Ryedale Open Studios in 2021 – me newly moved to the area and keen to meet other artists in the area. I fell in love with her stunning paintings over Instagram – a true example fo the power of social media to connect and to reveal art that really speaks to you.
So, already a fan of her work, I was delighted when she commissioned me to work with her to showcase her art for a new website.
Working in ink and watercolour, her paintings evoke a deep sense of the North Yorkshire countryside – the colours, the textures, the sense of being with nature. So it was no surprise to learn that her inspiration is rooted in deep seated memories of growing up around the North York Moors. Having travelled all around the world, her work incorporates the vibrant colours of the Middle East, grounded in the earthy tones of the North Yorkshire countryside and the rich palette of the coast.
As with most people – and artists and creatives in particular I've often found – Ione was not entirely comfortable with the prospect of being in front of the camera. Often 'exposing' yourself and your art can feel like a very vulnerable experience. Art is so personal and as creatives we are quick to downplay our talents or feel we're being too arty or pretentious when talking about our work or our process.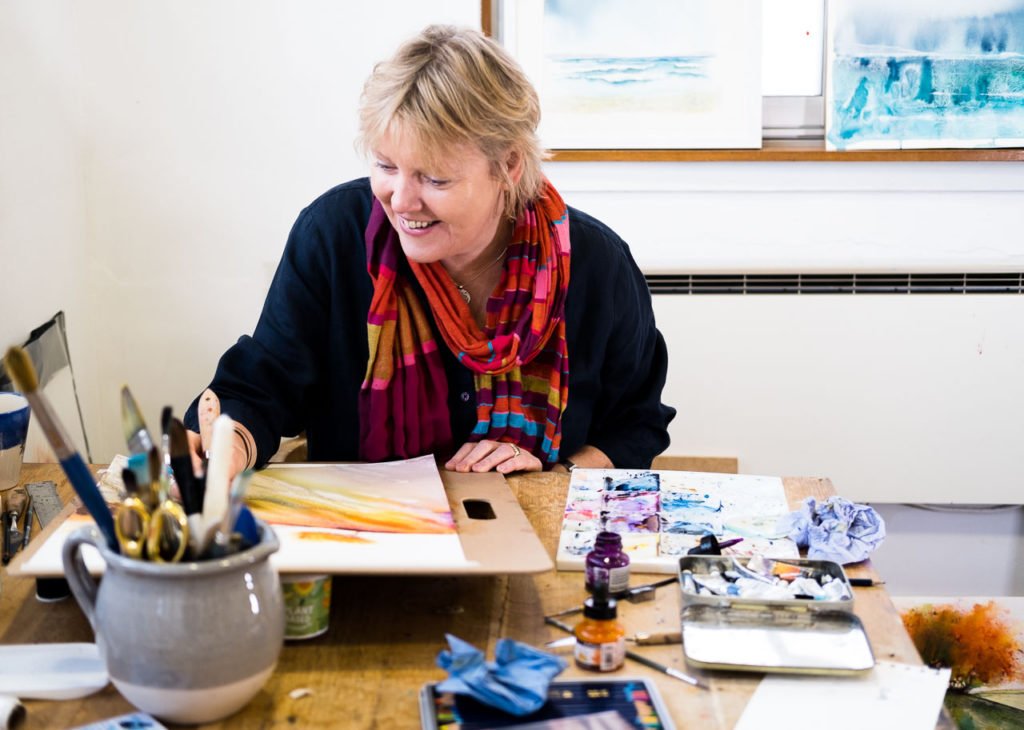 As with all my business and branding clients, we had an initial chat about what she was looking for, how she planned to use any images or content. With my years of marketing and communications experience I am well placed to guide small businesses and individuals about how they might use visual content to maximise their marketing, but also how to get shelf life out of the images and their time with me as a photographer or filmmaker.
Ione and I agreed that a short film would be an asset to her new website alongside some still photographic imagery that showcased not just her work, but her as the artist. Seamlessly combining capturing still photos and video and audio footage, we spent a morning together in her studio chatting about her inspirations and her process to create a short film and a range of images – including a few outfit changes to increase the longevity of the images – of Ione at work, environmental portraits, formal headshots and images of her work itself and the tools of her trade (always good filler imagery when you have something to say but no visuals for social media, or to dot around your website for visual interest) that she can use not just on her website but in social media for the launch of her website and beyond into the months ahead. As I also provide a copywriting service I was able to use our discussions as a basis for writing the text for her new website to pull her brand together as a holistic whole.
All in all, Ione agreed, it was a significantly less terrifying experience than she'd feared! In fact she even enjoyed herself!
"Thank you, thank you, thank you, for my amazing video, photos and copy. I feel like my website is going to look fabulous now. Can't wait to see how it all comes together. As you know, I felt self conscious and not very relaxed at first for the photo shoot, but you quickly made me feel at ease and, in fact, I really enjoyed the whole process in the end. The quality of the video and photos is outstanding and I especially love how you've embedded shots of the local landscape – this really resonates with what I'm saying in the video. The copy is also just what I wanted – I love how you got to the heart of what my art is all about. I hope we get to work together again soon." – Ione Harrison