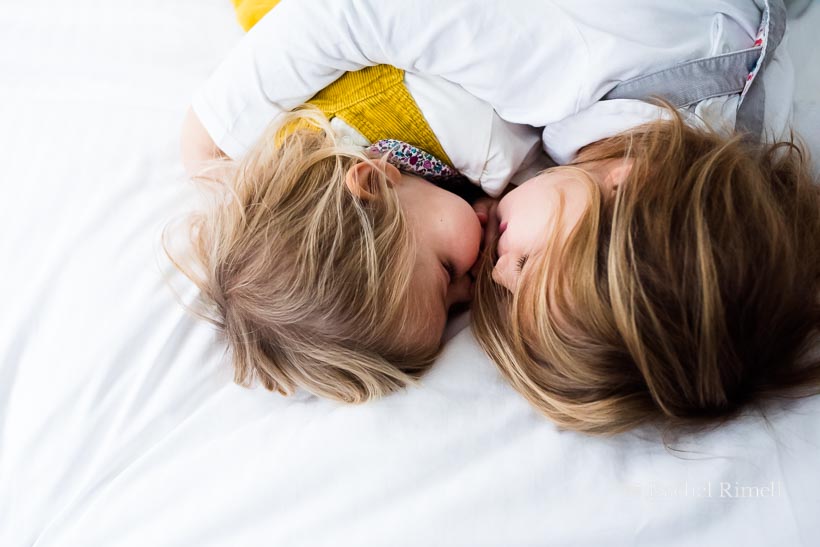 I adore photographing this family every year and getting to see how much the two girls have grown. It's an absolute joy to see how their personalities are developing – Lexie ever the clown and a ball of energy and Edith more serious and observant just taking it all in before she gives in to a good old jump on the bed!
I've been photographing the girls in Blackheath since Lexie was a baby as their London family photographer. I always aim for a relaxed and fun session with all my clients whether it's the first time I've met them or the 20th. But as we've gotten to know each other more over the years our sessions have really become more of a social visit with a camera thrown in. Lexie couldn't wait to show me her jumping skills on the bed and tell me all about her cousin's birthday party they were preparing – and dressed up – for! Edith's natural shyness abated once there was bed jumping to be had – and then mum got in on the action too.
Thoroughly exhausted from all the bed jumping it was time for some stories and train identification in the big book of trains before making unicorn- and gingerbreadmen-shaped sandwiches for the party. Cheese, ham AND jam anyone?
If you're interested in your own natural relaxed style family photography session in London, do get in touch for a no obligation call to discuss you and your family or read more about me and my style and my Signature and Day in the Life London family photography sessions.