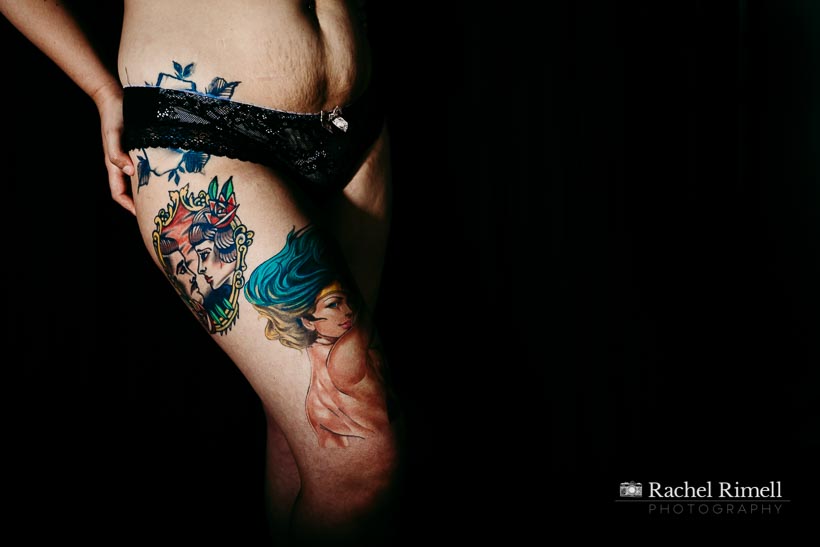 Becoming a mother is a momentous event in any woman's life and for many can overhaul their entire perception of self and identity. So much of our sense of self is tied up in how we are perceived by others.
Psychiatrist Alexandra Sacks compares the transition to motherhood to that undergone in adolescence where our whole role in society is changing combined with huge hormonal changes and that conflict between our old selves and our new. She claims that this can lead to women feeling like they must be depressed or they're not normal for having these responses, when in fact it is entirely commonplace – it just isn't talked about or portrayed in media.

Motherhood and Identity: Tattooed Mamas Breaking the Taboo focuses on tattooed mothers as a visual metaphor to question how the role of motherhood can subsume and overshadow women's identities as individuals alongside the stereotypes surrounding motherhood and looks at the women behind the title 'Mother'.
Juxtaposing individual portraits of women and their tattoos with environmental portraits in their mother role. Each set of images is accompanied by the model's story.

'Forrest's Mum'
Eleni, 26, mum to 11-month-old Forrest.
Eleni has 11 tattoos including her Greek nickname Koukla, meaning Dolly, which her Greek father calls her. A swallow on her back represents flying the nest which she had tattooed when she started university. A breast cancer ribbon on her hip represents her mother's fight with the disease while two sets of lyrics represent her Grandmother and Grandfather. The letter B on her ribs was tattooed by her fiancee Bradley when he started his apprenticeship as a tattooist and a rose on her hip and flowers on her calf are another two of Bradley's designs. Three of her most eye-catching tattoos are a Victorian man and woman on her leg, because she is 'an oldie by heart and love anything old', a mandala style Deathly Hallows symbol from Harry Potter and a huge Woman Woman image on her thigh – because "I'm a geek and love Harry Potter and Comic Cons".
"Each tattoo represents part of my life – illustrated on my body. I want Forrest to know not to judge a book by its cover."
On motherhood Eleni says this came to her unexpectedly having been told she was unable to have children naturally due to polycystic ovary syndrome. Booked in for their first IVF consultation they were delighted to discover Eleni was pregnant naturally. The news was all the more powerful for coming 3 days after the funeral of Bradley's brother who died in the Croydon tram accident aged only 19. Forrest carries his uncle's name Dane as his middle name and is giving the whole family a reason to smile again. Eleni says while her body has changed with motherhood she is proud of it for carrying her little boy and she couldn't be more thankful as she has loved every minute of motherhood.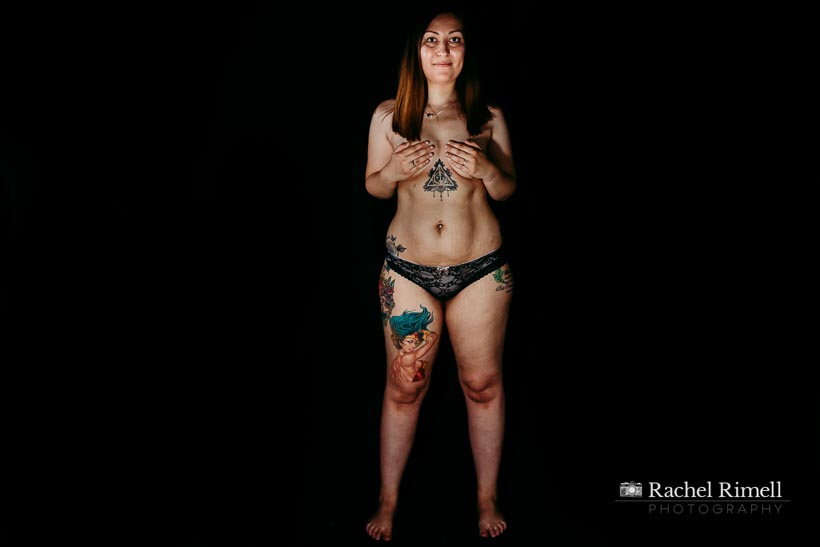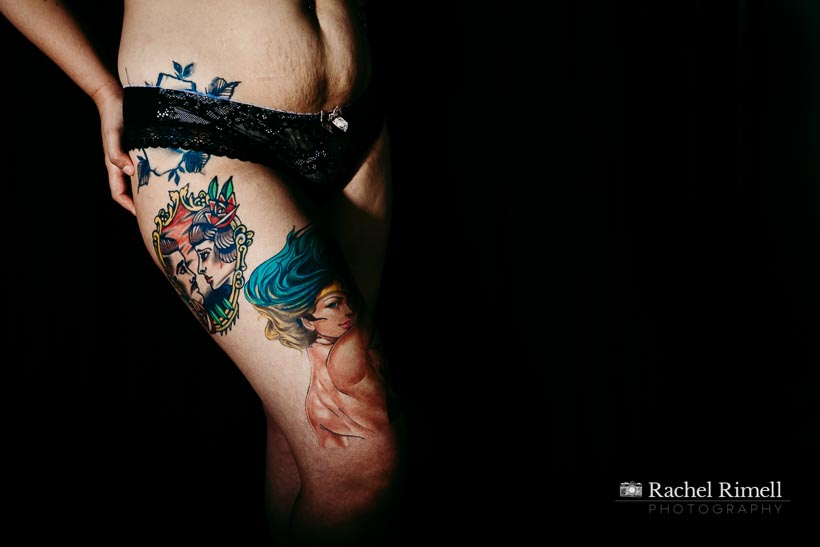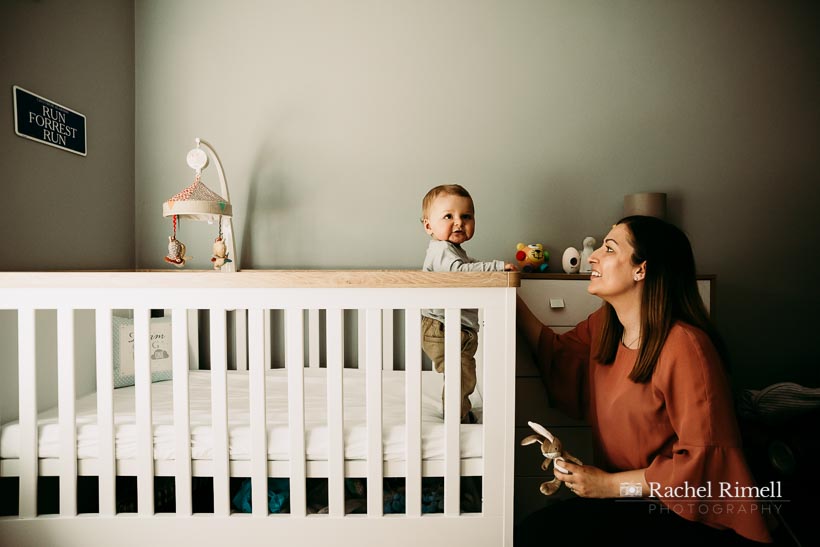 'Sadie's Mum'
Caroline: 37. TV development producer and mum to 2-yr-old Sadie
Caroline is profoundly deaf and married to Mark.
Her tattoos show where she's come from and who she is. A shamrock on her shoulder for her dad's Irish heritage – though faded and retouched; an English rose on her ankle for her mum; and a large tribal butterfly because most butterflies are deaf!Caroline has had to adjust her career following becoming a mother to provide stability for her family. Having previously worked as a producer-director which involved a lot of of travel for filming (something her husband Mark also does) she has reinvented herself – much like a butterfly – as a development producer for a TV documentary company where she works part time enabling her to share her time between work and Sadie.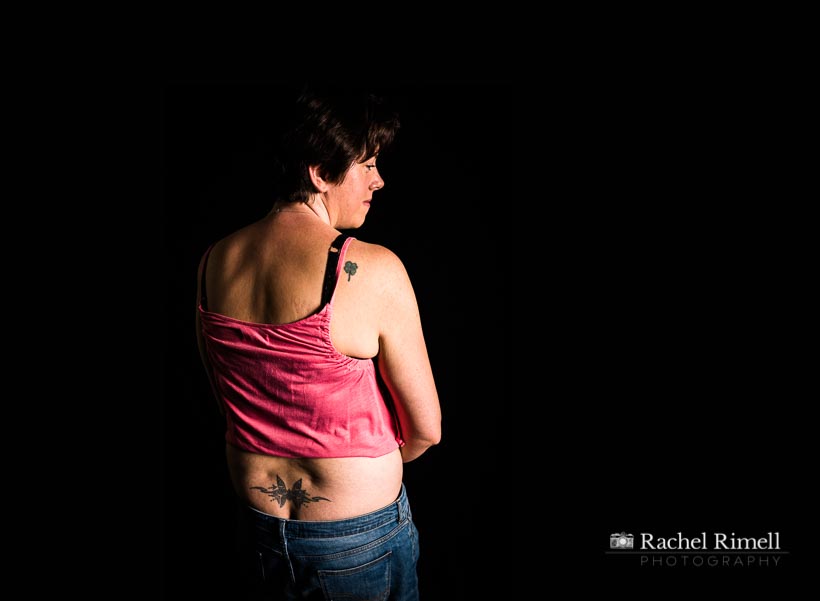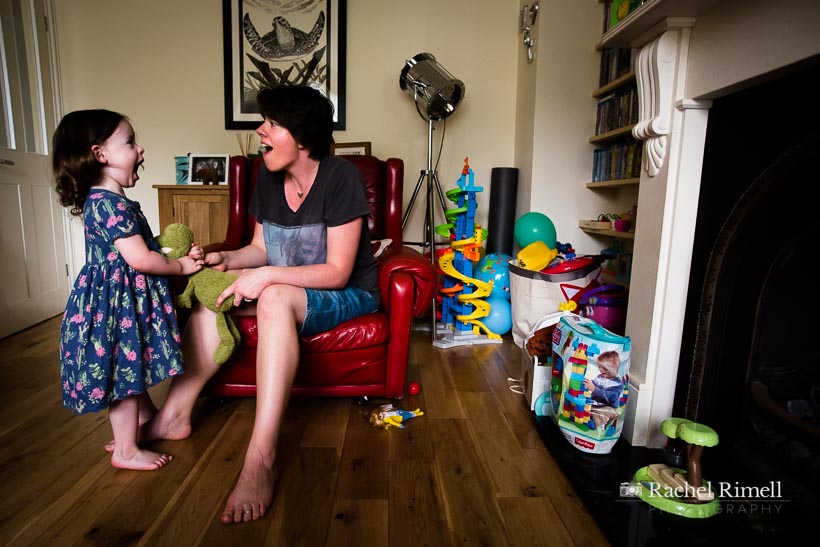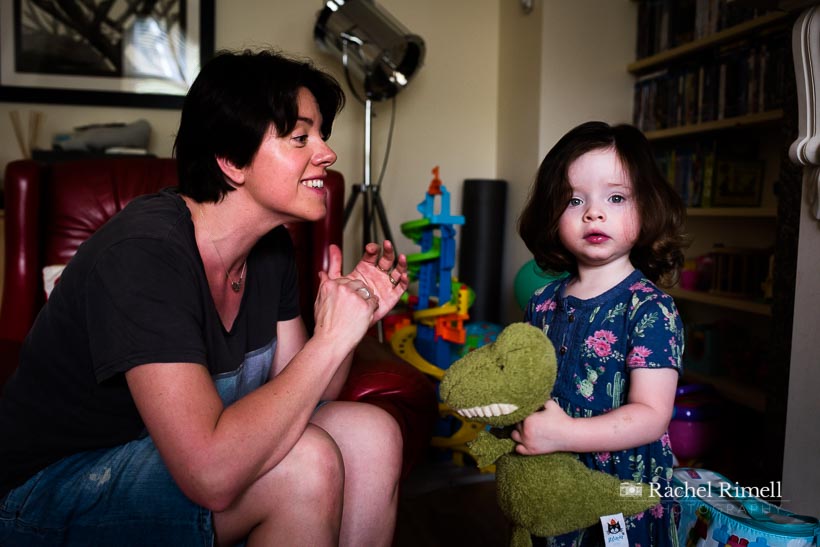 'Ruqayyah's mum'
Nichelle, 33, midwife and mum to 7-year-old Ruqayyah.
Single mum Nichelle got her first tattoo when she was just 14 alongside 3 other school friends. Faded on her lower back it still takes her back to her carefree school days. Nichelle has since added a set of angel wings on her back to guide and protect her; the name of her daughter inscribed on her forearm which she had tattooed a few weeks after she was born; and a large rose on her foot in memory of her beloved grandad.
Nichelle is a midwife and says she loves her job helping women bring their babies into the world but she doesn't plan to have any more of her own. In fact she has struck a deal with Ruqayyah that she can go to Disney World rather than have a new baby brother or sister!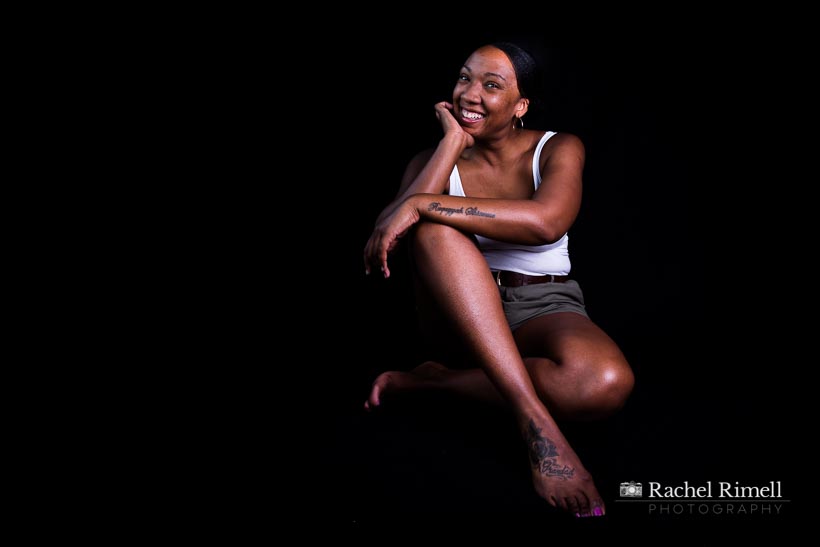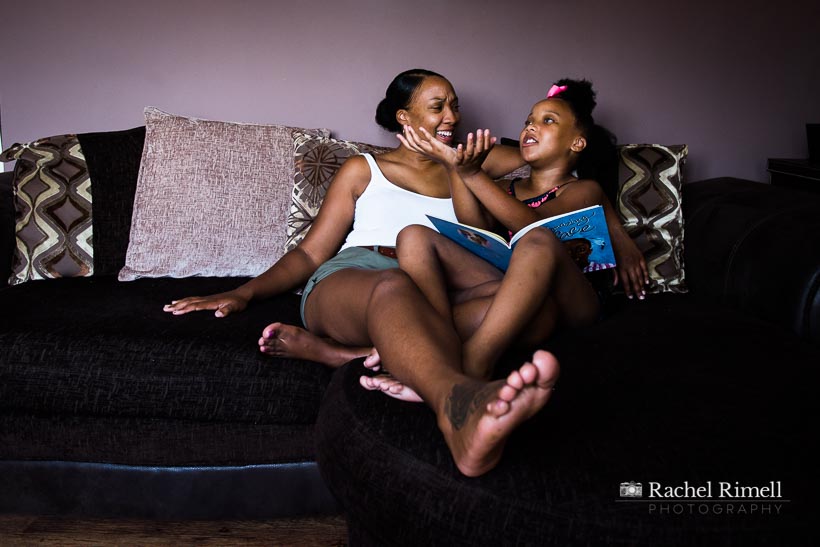 'Eoin and Harper's Mum'
Bec, 38. Emergency Services worker. Mother of twins Eoin and Harper aged 5. Wife to Gabe.
Bec says her tattoos are simply because she loves stars and wanted them permanently on her body.
On becoming a mother Bec felt that she missed out on her 'birth story' and didn't have the birth she'd dreamt of. After developing severe pre-eclampsia she was hospitalised for five weeks and her twins were born by planned c-section before their due date due to Bec's health. She has since struggled with body image and identity immediately after birth working hard to get back into shape. She says: "I went all mama bear after I had there twins becoming the sort of mother I used to mock – I wouldn't let the babies out of my sight or leave them with anyone, everything was organic and handmade. People ask how I cope with two, but you have no choice and just get on with it. I'm much more relaxed now!"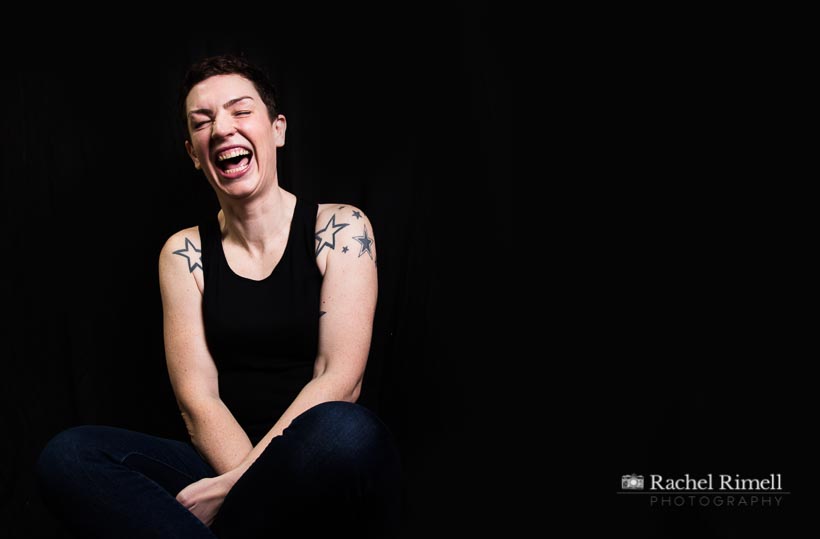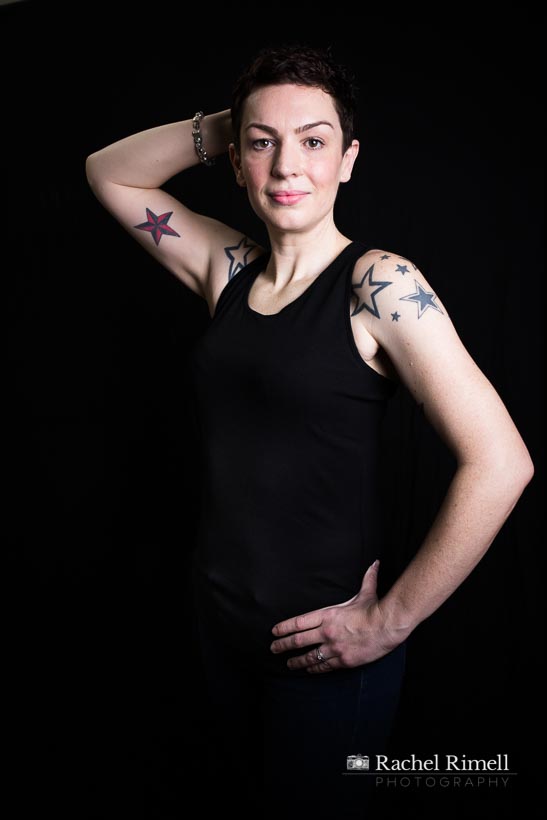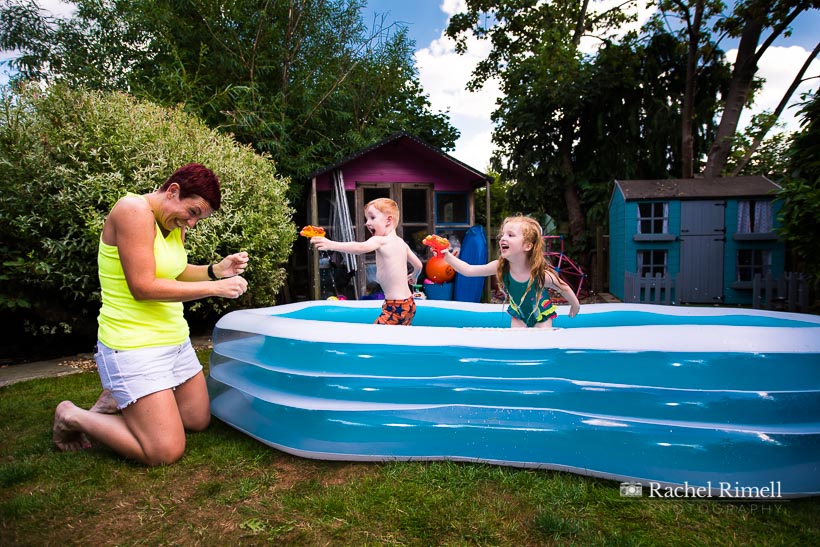 'Mikael and Lilia's mum'
Atiya, 34. Entrepreneur and small business owner. Mum to Mikael aged 5 and Lilia aged 2
Atiya's two tattoos are expressions of her rebelliousness and part of her personal history. Her first – an Asian symbol on her back denoting happiness – was tattooed when she was 16 and left home. The tattoo was a symbol not of defiance but of hope that she would find happiness having grown up in a strict environment. Her second tattoo – a wasp on her hipbone – she shares with a friend. Gained 'while drunk' they symbolised the strength of their friendship and that they would always have each other's back. Since becoming a mum Atiya quit her job in fashion to set up her own businesses organising and planning parties and events as well as a soon-to-be-launched online sari hire service.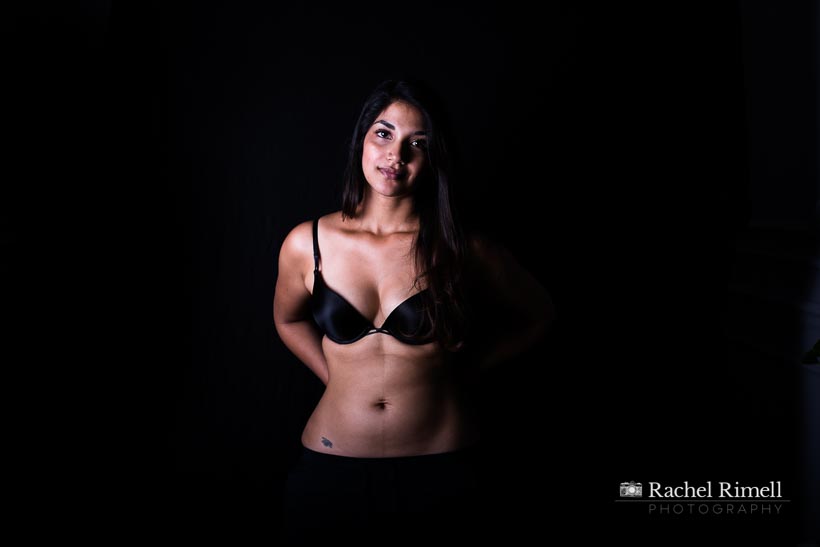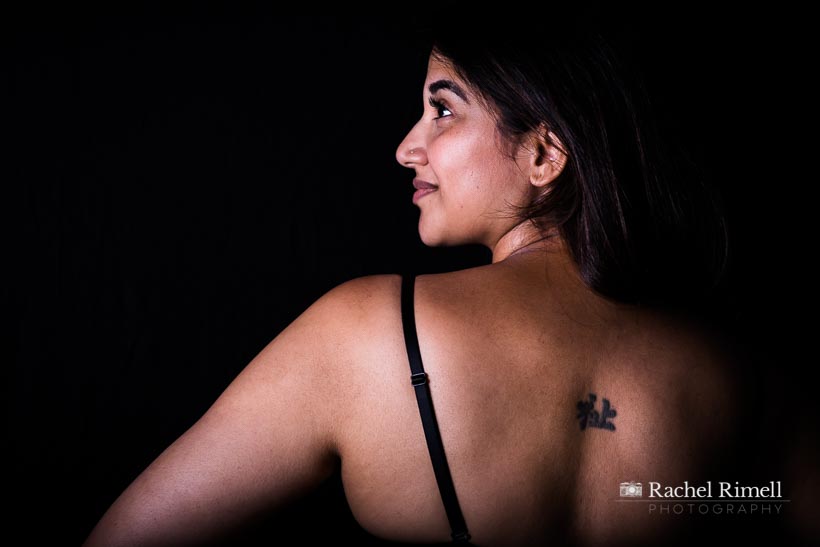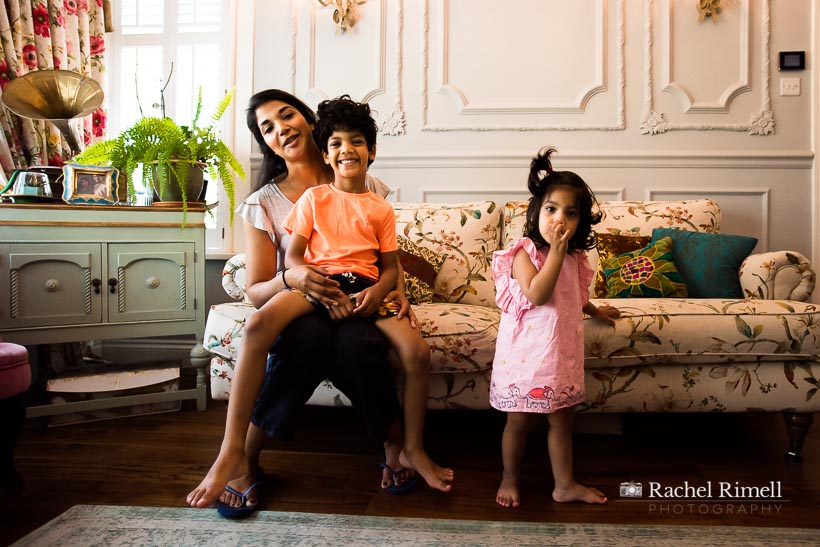 'Matteo and Alberto's Mum'
Becky, 36. Mum to 3.5 year old Mateo and 18 month old Alberto. Stay at home mum and voluntary worker.
Her tattoo is of a bicycle which reflects her love of cycling. Growing up in the Netherlands she cycled everywhere from a young age and when she moved to London as well as commuting by bike she brought her love of cycling to critical mass bike rides, charity rides and the all night ride to Brighton. She says she loved the freedom of it that you could go anywhere you wanted and not be trapped in traffic.Her tattoo was a work leaving gift. She chose the bike because she had been knocked off her bike a few months previous shattering her right wrist. Requiring surgery she was left scarred and felt disappointed that the only mark on her body was something so negatively associated with something she loved. So the bike tattoo on her left wrist balances it out again.A former teacher, Becky is now a stay at home mum and voluntary worker for the red Box Project which ensures there is access to sanitary wear supplies for schoolgirls without the means to buy their own. Despite cycling until she was seven months pregnant with Mateo, she has barely cycled since the birth of Alberto and she says it feels very much like her old life."So much of who we are before children is wrapped up in what we wear and our other interests and that can become lost in motherhood – even just buying new clothes is too much! I don't know what fits, what suits me, what's in style any more. But the tattoo is still there to remind me of my old life. Motherhood has changed my life more than I ever thought it would. I'm still trying to work out who I am now."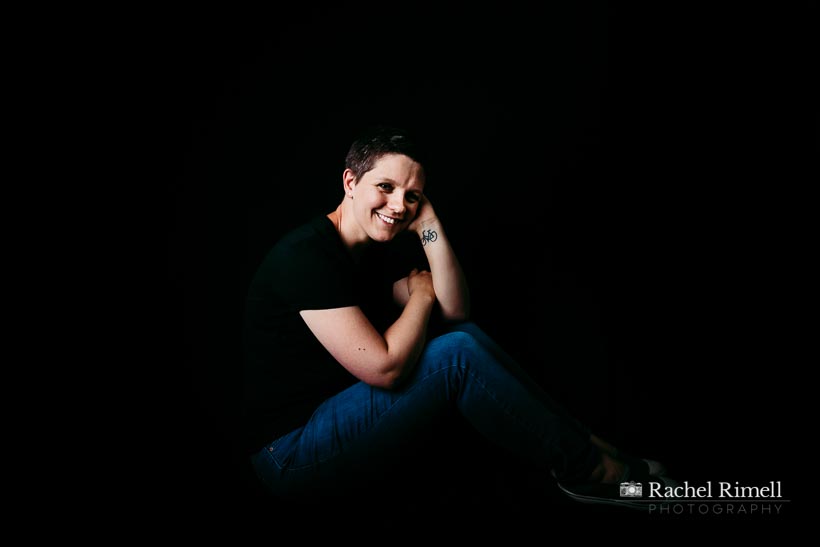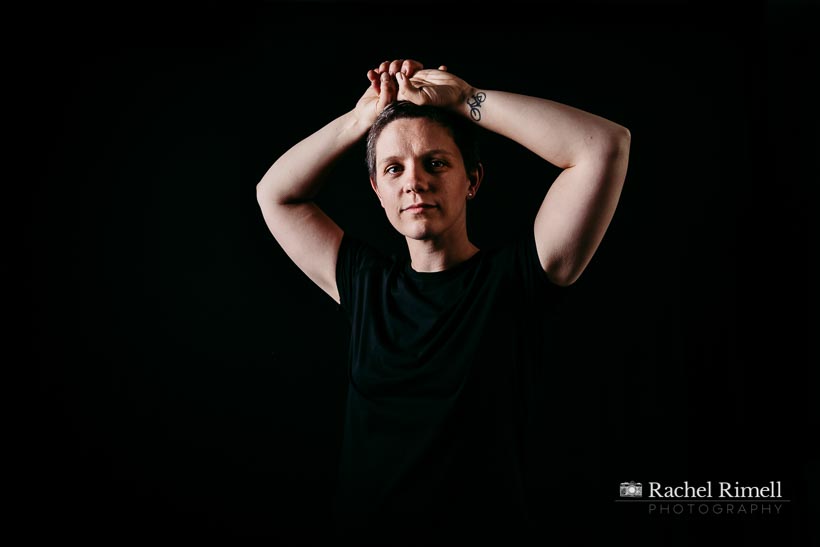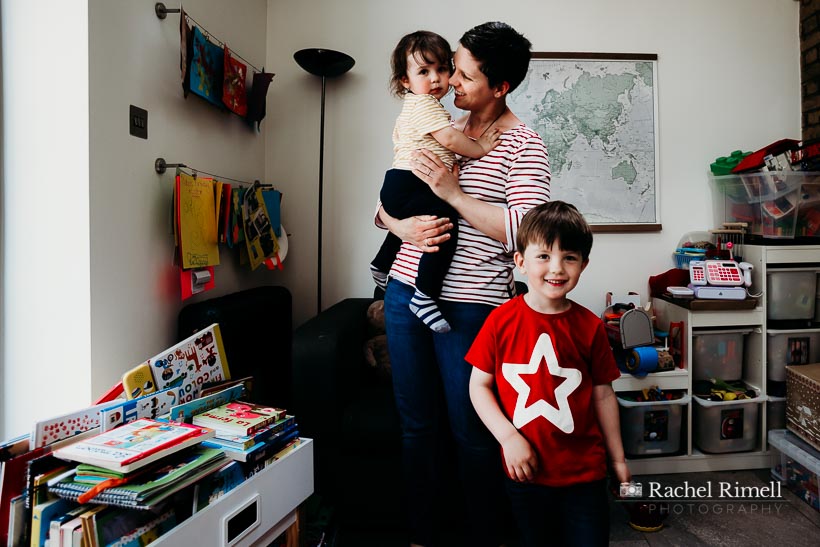 'Nathaniel's Mum'
Clare, 36. Charity worker. Mum to 2.5-yr-old Nathaniel.
Clare has a number of tattoos that express her individuality. The tattoo that means the most to her is the giant phoenix on her right thigh, dubbed 'Thighmon'. The tattoo represents her mental health journey and struggles with depression and mental health crises. First diagnosed with depression at 14 and medicated at 17 she has battled ever since with the disease including considering suicide. She says that her mental health has deeply affected her life including deferring exams and losing relationships and she suffered again after the traumatic events surround Nathaniel's very premature birth and subsequent open heart surgery after which she was diagnosed with PTSD. The phoenix was tattooed on her after the death of a friend in a mountaineering accident to remind her that life is short, not to put things off, and that every time she goes down in flames she will rise again stronger and wiser than before.
She says "I really feel passionately that individual expression should be celebrated and that all the facets that make us up create a beautiful and complex definition of modern motherhood."
Clare works full time at a charity and helpline for women in crisis as well as being mum to Nathaniel who suffers from facial palsy but is fighting fit and well following his premature arrival into the world.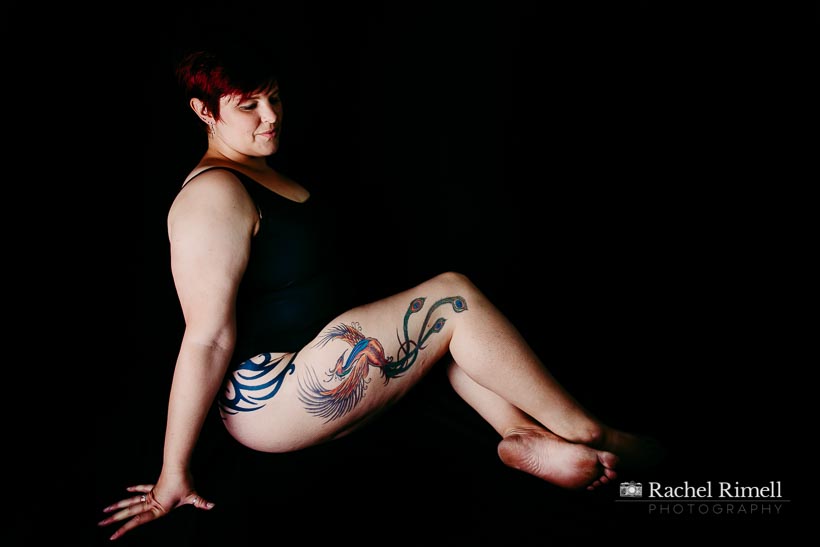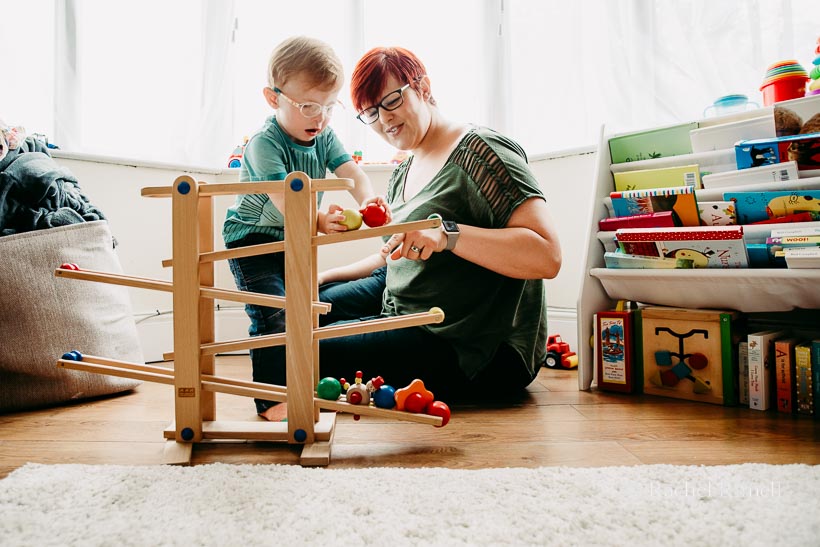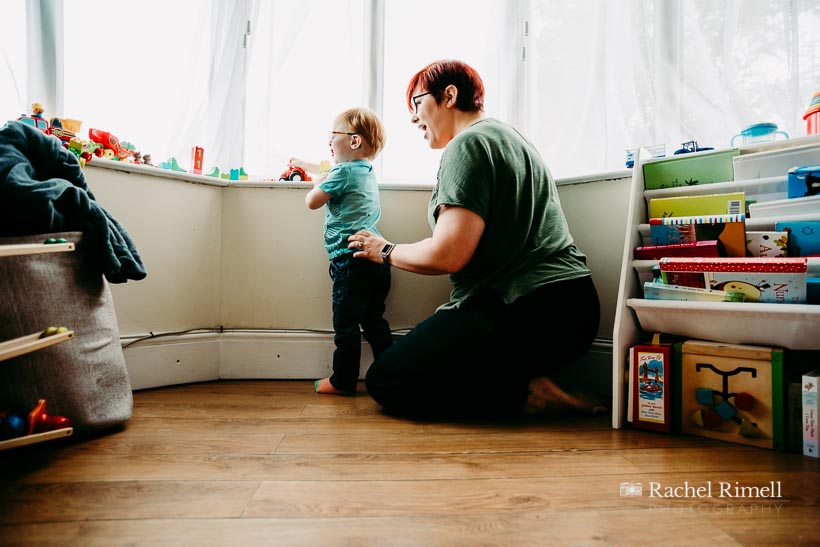 'Jonathan, Matthew and Matilda's mum'
Laura, 31. Former dancer and nanny. Mum to 4-yr-old Jonathan, 14-month-old Matthew and 3-month-old Matilda.
Laura and her husband currently live in Laura's mother's house and are planning to relocate to Fife in Scotland next year.
Laura has 5 tattoos in total – the first is a dove of peace which is to represent an American friend who she claims was wrongfully convicted of a crime and is currently serving time in jail. Her second and third tattoos represent her love of song and dance – a butterfly on her neck and musical note on her ankle. Her 4th tattoo is a quote from a friend 'while hope remains immortal possibilities remain endless'. And her fifth and final tattoo is a tangle of roses with the letter L and T entwined on the twigs to represent her relationship with her now-husband.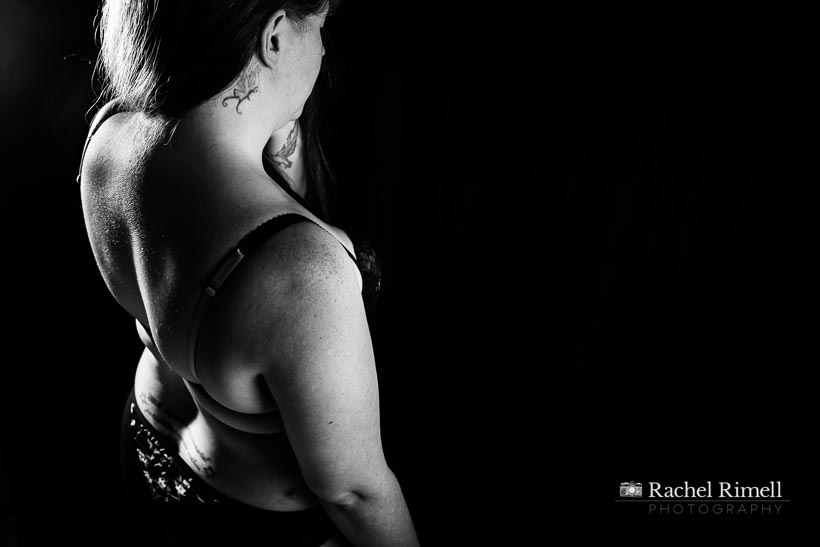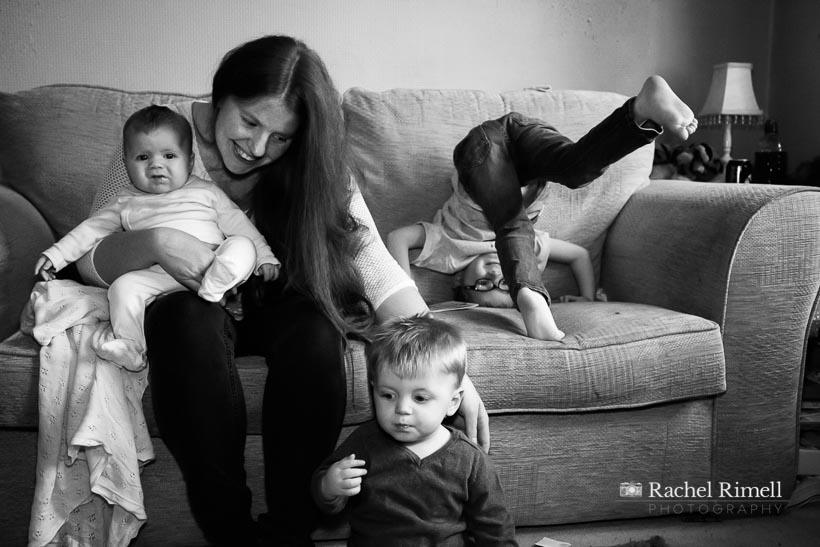 'Elbie's mum'
Rose
Manages a cafe run for charity for young offenders and people on probation.
Son Elbie – 9 months old. Elbie – for Little Beast.
Tattoos are all musical inspired as such a big part of her life. The lines of the tattoos follow the natural lines of her body.Used to play but now her partner is a professional violinist she's known more for her playlists than her playing.
Has embraced motherhood and found it inspiring and fulfilling. Has made a big effort to still have friends round who don't have children as well as go to playgroups etc and meet other like-minded mums. Has felt some playgroups or classes are a bit yummy mummy and her style didn't fit.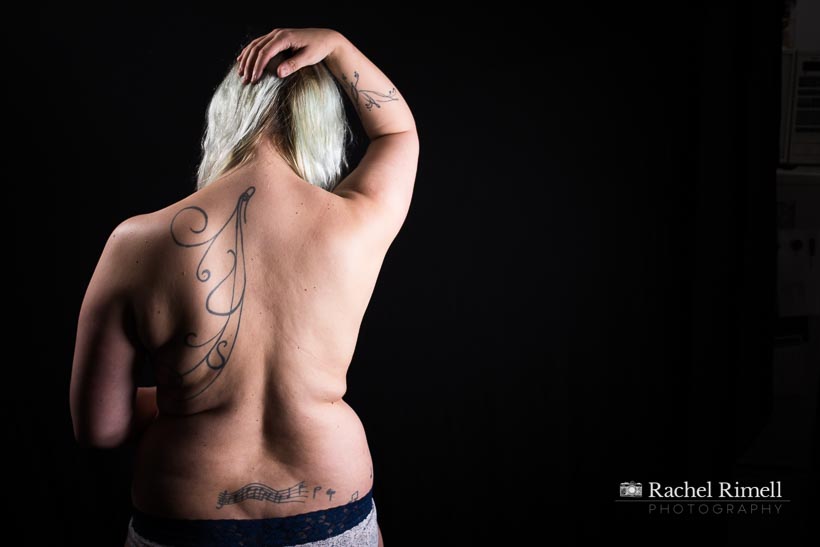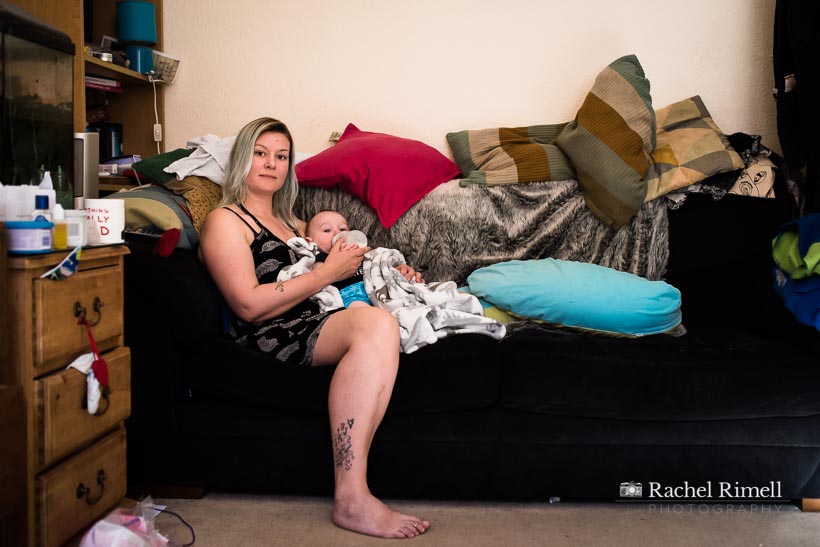 'Wellie's Mum'
Sharon: 37, freelance theatre producer and manager, mum to 21 month old Elliott.
Sharon is married to profoundly deaf husband Justin and mum to Elliott – affectionately known as Wellie due to his liveliness from inside the womb and out! – who also has Downs Syndrome.
Sharon's tattoos tell the story of her journey so far:
– a feather quill on her right arm, her first tattoo, testifies that she is the author of her own future having survived cancer;
– a sunflower and forget-me-nots on her thigh in memory of her mother who died when Sharon was 21;
– a tree and birds on her left shoulder to commemorate her first pregnancy and miscarriage. The bird flying away in negative space represents her little ones flying away and the tree is grounding her and her family. Since she had this tattoo Sharon suffered two further miscarriages;
– a traditional Polynesian tattoo on her left leg celebrating her travels in French Polynesia with her husband Justin;
– a tiny comma on her left hand underneath a mole to form a semi-colon denoting that her story is not over – representing mental health;
– three chevrons on her left wrist as part of her membership of the Downs Syndrome community to rise up, move forward and aim high – and because Elliott is 'rocking his extra chromosome'.
Sharon's household encompasses and welcomes two rescue cats and an 'adopted' art student Chelsea. When this portrait was taken Sharon was currently pregnant with her 5th pregnancy and hoping to give Elliott a baby brother or sister soon. Shortly after the portrait was taken Sharon unfortunately lost her baby, her fourth miscarriage.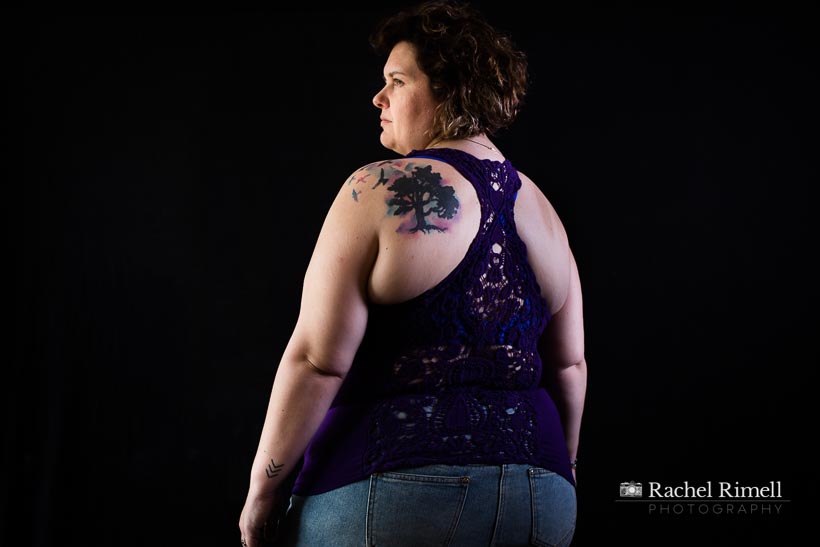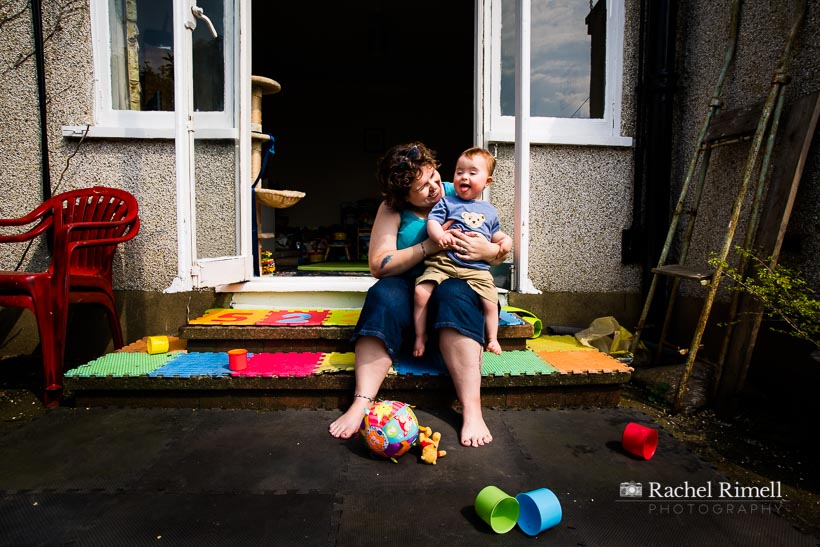 'Jude's mum'
Sonia, 44. Teacher. Mum to 3-year-old Jude.
Sonia had her first tattoo when she was travelling in Australia opting for the eye of Horus – an Egyptian god – due to her love of Egyptian history and theology. On her return to the UK her Japanese mother hated it as in Japan tattoos are only for Yakuza gangsters. In fact on a trip to Japan Sonia had to cover her tattoos while swimming as the stigma of tattoos extends to being barred entry to certain establishments. Undeterred she went on to have a Celtic knot on her other arm for no other reason than she liked the design.
Sonia came to motherhood in her early 40s and while she took motherhood entirely in her stride, she is happy with one child and does not plan to have any more children. She says that identity was not an issue for her when she became a mother – she had already led an interesting, varied and travelled life, and many of her friends already had children, by the time she had Jude so she didn't feel that she had missed out on anything to become a mother – and was more concerned that she would miss out on motherhood if she didn't have a family when she did.
Sonia teaches religious studies at a girls' secondary school.