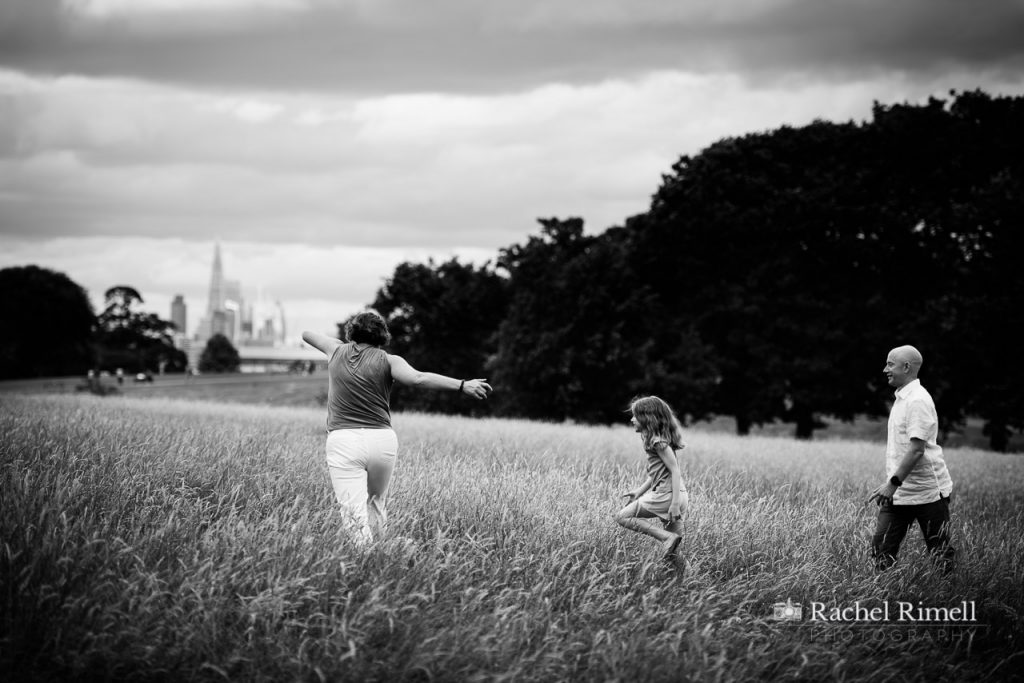 This was not only a delightful south London family photo session, but also one of the loveliest and thoughtful birthday presents. Rory and his daughter Freya booked me to do a family photography session for wife and mother Siobhan. The Brixton family wanted some natural photographs that were true to them as a family in a place that meant something to them – their local stomping ground Brockwell Park.

We held our breath for the English summer weather to stay on our side and were rewarded with a breezy but bright day with some fabulous cloudy skies as a backdrop. One of the things Rory, Siobhan and Freya like doing together is playing in the park so they brought along a bright red ball for a few games of catch, piggy-in-the-middle and a few family favourites I couldn't quite understand the rules of! Then it was time for a bit of a sit down for a snack, a read and a reminisce, followed by a wander round the walled garden before Siobhan broke out her cartwheeling skills!
The result was a gallery of stunning images simply full of joy and togetherness – pure and simple family-time. I had so many gorgeous images it was a tough choice narrowing them down. I'm pleased to say Siobhan was thrilled with her birthday present and gave me the highest accolade for my image of Freya which she described as 'the most beautiful image I've ever seen!' Can't get better than that – and knowing it will be hanging on their wall as a gorgeous piece of art, along with a lovely selection of framed prints from the session, is why I do this job. Nothing could be more satisfying as a London fine art documentary family photographer than that.