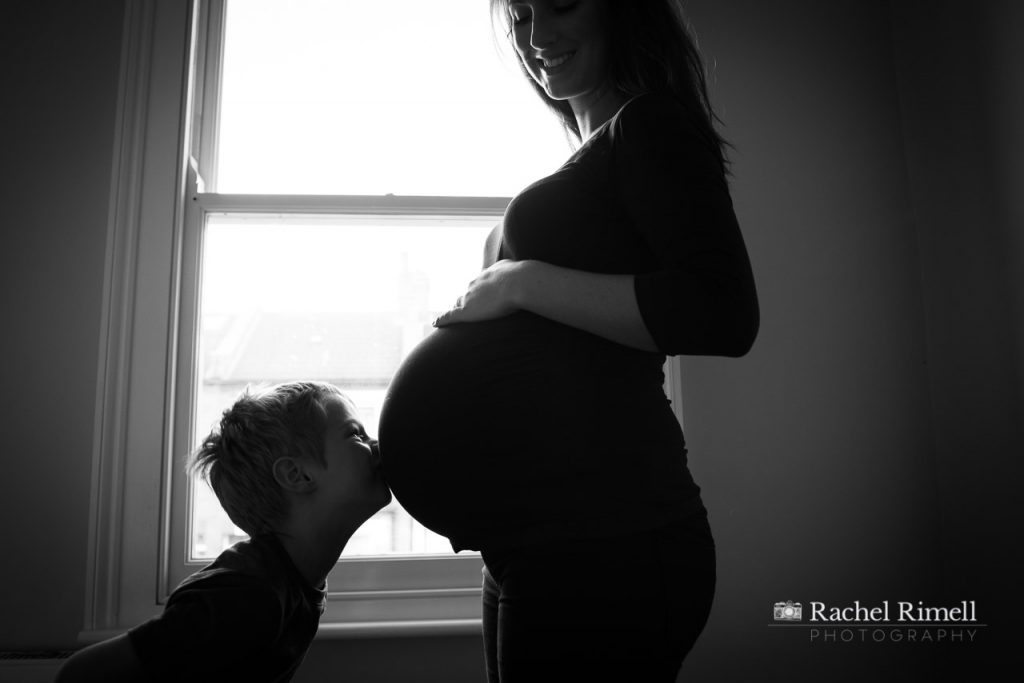 The second of my weekend London maternity photoshoots was also in Wimbledon with Emma, Italian husband Graziano (continuing my international theme) and their five-year-old son Max as well as their excitable little hairy sausage dog Opie!

I fell a little in love with their kitchen – the gorgeous shade of blue, the acres of natural light from full length patio doors across the width of the house as well as glass roof. I simply had to do some photos in there with Emma pottering around with Graziano and Opie.
Emma and Graziano had also just had their spare room painted which gave us a lovely blank canvas backdrop for some more intimate photos to really show off Emma's glorious bump. The lovely double sash windows also provided a good focal point for some backlit silhouette images with Max and Graziano. Graziano was a little reticent about being photographed but soon got into the spirit of things when I explained he didn't need to do awkward poses and could just be himself. With Max jumping around full of silliness and energy, there was little chance of him being anything but himself and we settled down for a good Roald Dahl story on the bed. I absolutely adore some of the final images with Max – full of character and bursting with fun. He's definitely going to lead his little brother astray when he arrives!
One of the great things about being a south London family photographer specialising in maternity, baby and family lifestyle photography is being entirely free to be creative with the light, the environment and the people simply capturing the moment and the gestures without a formal studio environment. I love the final images – so much so the picture of Max blowing a raspberry in mummy's tummy is now my Facebook page profile pic!