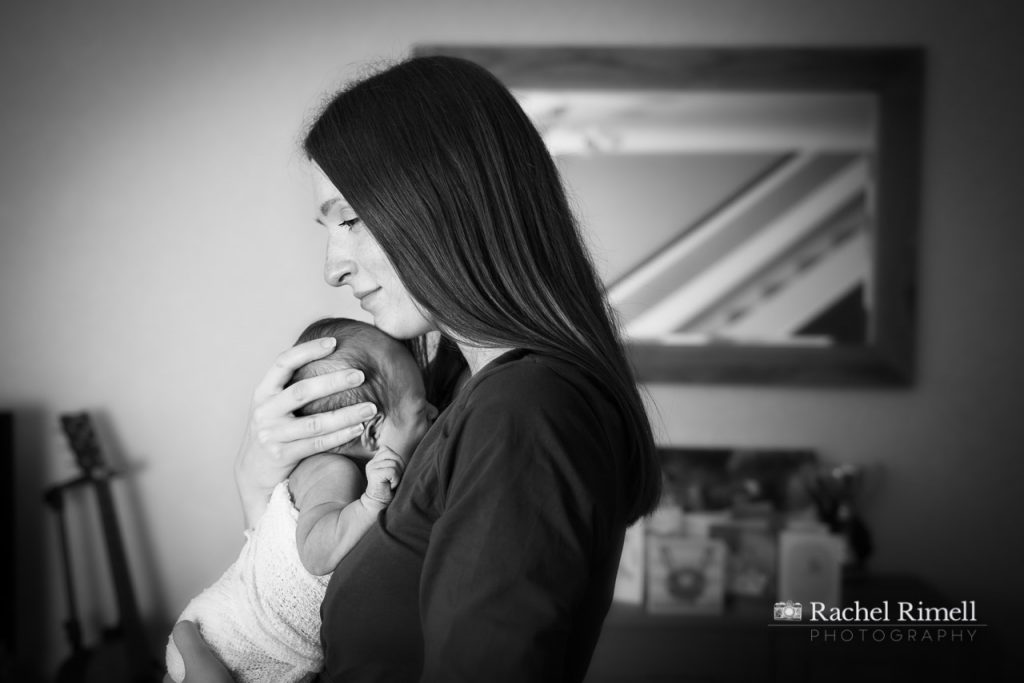 I was really looking forward to meeting 10-day-old baby girl Cassia for her newborn photoshoot – the first in her Baby's First Year package booked by parents Dan and Olivia a few months ago.

When I arrived at Dan and Olivia's house in Orpington, Cassia had just woken from an unexpectedly long nap and was having a feed so I set up my beanbag next to the full length patio doors across the back of their living room to make the most of the natural light. By the time Cassia was finished her feed though the skies had blackened and the heavens had opened so the natural light had turned a miserable grey, so out came my lights to add a bit of sparkle. As a south London newborn photographer I'm always prepared for anything!
We decided to start with some shots of Cassia undressed but no sooner had her nappy come off than a massive poo explosion ensued all over Olivia's lovely pink top. So quick change for Olivia while Dan cleaned Cassia up and I got to work with a few shots of Cassia in a lovely pink lace wrap. Olivia was keen to use some of the lovely pink rose petals she'd collected from the garden for the image so we artfully scattered those around for effect. The scene was set. Unfortunately Cassia was not!
It seemed Cassia had decided that today was going to be a cluster feed day and she was ready for another feed already. And it was a pattern she was going to repeat throughout the shoot.
I am always entirely baby-led in my photography and adopt a lifestyle approach to family photography. In my time as a London family photographer I have photographed newborn and older babies of all shapes and sizes, sleepy babies, wide awake babies, screaming and unsettled babies, totally content and go-with-the-flow babies. Patience is the name of the game with newborn photography and if baby needs feeding, then baby feeds, if baby needs changing then we stop for a change. Newborn baby shoots tend to take a little longer than other family photography sessions for this very reason. But the beauty of lifestyle newborn photography is that I am able to just go with the flow. I don't have a preconceived idea of exactly what images I'll be taking that I absolutely have to get – though it's always nice to get the classic natural poses if possible – which means I can be flexible around baby's needs. If baby doesn't like being alone of the beanbag, then we do more images with mum and dad.
At my Orpington shoot, as Cassia was so very hungry I simply couldn't miss the opportunity for some gorgeous breastfeeding images as well as the chance to grab some of those intimate details of dad gently stroking Cassia's foot to comfort her. We also managed to get some truly stunning images of Cassia against a black background – simple, stunning, beautiful!